The ROG Phone 7 is expected to go on sale soon from ASUS. The ROG Phone 7, 7D, and 7 Ultimate are most likely to be included in the lineup
Currently, the ROG Phone 7D is visible in the Geekbench database. It provides the device's essential specifications.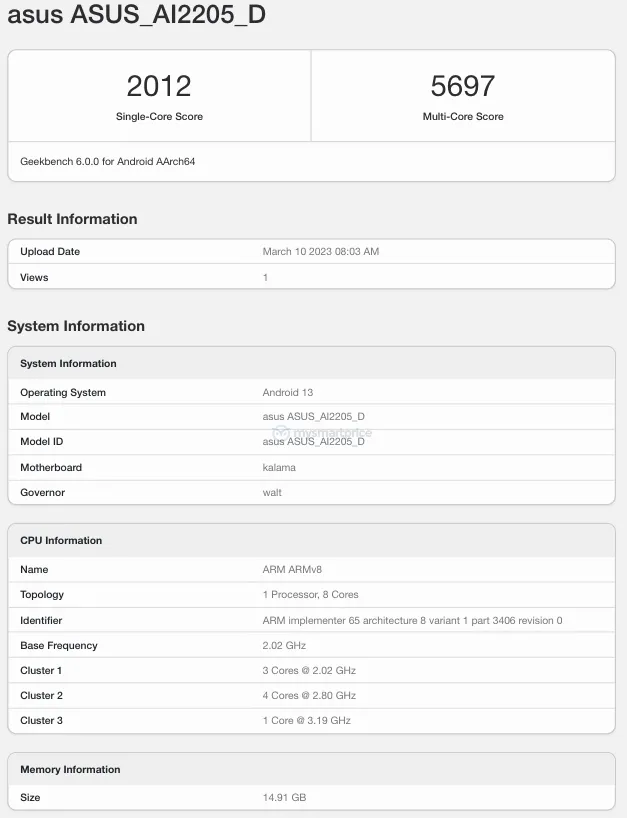 According to Geekbench, the ASUS ROG Phone 7D is listed with model number AI 2205D.
The motherboard's codename "Kalama," which matches the top-tier Snapdragon 8 Gen 2 chip, is revealed in the listing.
Moreover, the chipset has eight total cores, three of which run at 2.02GHz, four of which run at 2.80GHz, and one of which runs at 3.19GHz.
Furthermore, the smartphone will have 16GB of Memory, and more options should be available at launch.
The ROG Phone 7D will come pre-installed with Android 13 OS. With this hardware, the Asus ROG Phone 7D will be an extremely capable gaming phone.
In the single-core and multi-core tests conducted by Geekbench, the ASUS ROG Phone 7D receives 2,012 and 5,697 points, respectively.
The ASUS ROG Phone 7 series would have an AMOLED display with a 165Hz refresh rate. This allows the phone to have a smooth gameplay performance.
Also, the phone will have two variants: the normal and ultimate models. The storage capacity of the former will be up to 256GB, while that of the latter would supposedly top out at 512 GB.
Moreover, the ROG Phone 7 series is expected to make its debut between July and September of 2023.
We are eager to get our hands on this beast, just like all the ROG phone enthusiasts out there. It is a gaming paradise with excellent hardware and a variety of perks found in ROG phones.
Source: Gizmochina
For more tech-related news, visit our website! 😌