Qualcomm Technologies, Inc. has introduced a fresh lineup of handheld gaming products under the Snapdragon® G Series. These have been designed to fulfill the distinctive requirements for performance and features that dedicated gaming devices call for. This new Snapdragon G Series provides a variety of choices for enjoying the most popular games, granting limitless possibilities to play almost any game, regardless of location.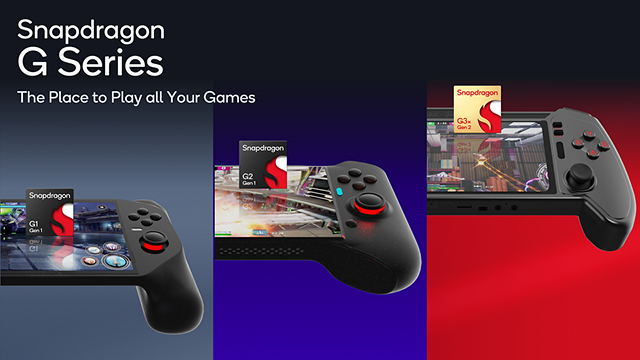 Introducing the Snapdragon G Series, a lineup designed to cater to different levels of gaming experiences:
Snapdragon G1: This is all about enabling game streaming on handheld devices. No need to worry about lag – it's optimized for seamless connectivity and long battery life. You can enjoy console and PC games in top-notch quality for extended periods. The first member of this series, the Snapdragon G1 Gen 1 Platform, features a powerful Qualcomm Kryo CPU (8 Core) and Adreno A11 GPU for impressive handheld game streaming.
Snapdragon G2: Here's where things get even better. This tier is focused on providing excellent mobile and cloud gaming experiences. Equipped with cutting-edge 5G and Wi-Fi 6/6E technology from Qualcomm FastConnect 6700, you can dive into premium gaming titles anywhere you go. The Snapdragon G2 Gen 1 Platform is the star of this show, featuring an advanced Kryo CPU (8 Core), gaming-optimized Adreno A21 GPU, and the Snapdragon X62 5G Modem-RF System for a full exploration of mobile and cloud gaming.
Snapdragon G3: This is the top-notch tier for serious gaming enthusiasts. It's designed to deliver the absolute best gaming capabilities. Drawing inspiration from the Razer Edge 5G powered by Snapdragon G3x Gen 1, devices in the Snapdragon G3 category promise exceptional gaming experiences across various gaming ecosystems. The Snapdragon G3x Gen 2 Platform is the latest addition to this lineup, boasting a Kryo CPU (8 Core) and Adreno A32 GPU that offer over 30% faster CPU performance and a whopping 2x faster GPU performance compared to the previous model. This platform brings together generations of performance improvements and high-end gaming features like hardware-accelerated ray tracing, game super resolution, XR glass tethering, low-latency premium Bluetooth audio with Snapdragon Sound Technology Suite, and lightning-fast wireless speeds via Wi-Fi 7 High-Band Simultaneous (HBS) as well as 5G sub-6 and mmWave. It's the ultimate gaming experience package.
To make things easier for bringing top-notch gaming devices to the market and speeding up the creation of new handheld gaming gadgets, the Snapdragon G3x Gen 2 Handheld Gaming Reference Design is now up for grabs. It's being tested by a few select companies right now, and we can expect more tailored product announcements to come soon.
Mithun Chandrasekhar, the senior director of product management at Qualcomm Technologies, Inc., explained, "Playing games on dedicated handheld devices is awesome, but gamers also want the freedom to play their favorite games on different devices like consoles, PCs, or even through cloud services. The next-gen Snapdragon G Series-powered devices are going to be the ultimate gaming hubs. Gamers can pick and choose from cloud gaming, consoles, Android, or PC gaming while they're on the move."
Learn more about bleeding-edge technologies and experiences powered by the Snapdragon G Series product line by visiting: https://www.qualcomm.com/products/catalog/snapdragon-g-series-gaming-platforms